100% Softswitch. 100% UCaaS
Unleash the Power
Private-Label UCaaS and Hosted VoIP Platform
---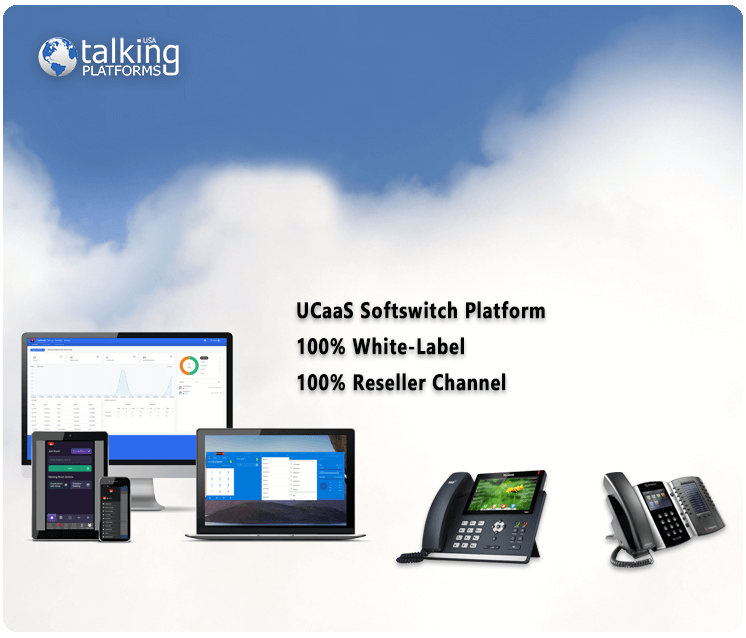 The Talking Platforms UCaaS Platform is backed by our ultra-secure and reliable proprietary Softswitch, providing unmatched benefits for our private-label partners. Enjoy the peace of mind that comes with unparalleled reliability, security, and scalability compared to individual IP PBX buildouts commonly used by other white-label providers. With our platform, you have the flexibility to bring your carriers or take advantage of our expert porting and DID-related services. Our commitment to providing you with exceptional service and support means you can focus on growing your business, while we take care of the rest.
Why a Softswitch Platform?
Starting as a UCaaS or Hosted VoIP reseller can be a daunting task, with the challenge of finding the right platform provider. Many providers offer individual IP PBXs with a software portal that can be complicated to manage. But with the Talking Platforms Softswitch platform, you get a unified and ultra-secure platform that's easy to manage and scale. No more juggling multiple IP PBXs or worrying about complex multi-site installations.
Talking Platforms delivers a comprehensive solution by integrating all our in-house developed features directly into our Softswitch platform. Our all-in-one solution includes billing, accounting, taxation, payment gateway, products, services, and much more, allowing you to easily configure the platform to meet your organization's unique requirements. With our integrated features, you can streamline your operations and save time and money, while providing your customers with an exceptional UCaaS experience.
Why UCaaS?
With UCaaS, your customers have a one-stop shop under our white-label Softswitch platform. This gives your organization an edge over your competitors and promotes a strong customer relationship. Your customers want a reliable communications platform and the ability to communicate with their customers. Everyone wants a solid recurring revenue stream and Talking Platforms delivers.

Our white-label UCaaS platform ensures the protection and preservation of your organization's brand and image. We offer a fully customized experience where your customers maintain their relationship with you, and we remain hidden behind the scenes. Our platform is designed to seamlessly integrate with your existing brand, allowing you to provide your customers with a high-quality, reliable, and secure UCaaS service. You can trust us to provide a top-notch experience for your customers while keeping your brand front and center.
We offer a wide range of popular cloud services which include:
Don't put off becoming a hosted UCaaS reseller that offers

Hosted PBX and UCaaS

.
Contact us at (202) 747-0064 or This email address is being protected from spambots. You need JavaScript enabled to view it. today!