Talking Platforms
Private-Label UCaaS Platform Provider
Helping partners succeed in UCaaS, VoIP, and Cloud Communications
Keep your customers, create new customers, and they stay your customers
---
io

TRAN

Corporation and Talking Platforms Announce Agreement to Merge
Combination of Innovative UCaaS Solutions Provider and Award-Winning White Label Telephony Service Provider Delivers a Robust, Affordable and Complete Communications Offering
for any Business in North America
Colorado Springs, CO - September 25, 2023 - ioTRAN Corporation, a developer of innovative carrier-class UCaaS solutions, and Talking Platforms, a service provider of award-winning white label telephony, today announced that they have entered into a joint consolidation agreement.
Both parties have entered into the agreement to leverage synergies in their businesses and enhance the value that each organization can bring to respective customers. The merger announced today enables ioTRAN and Talking Platforms to better align their service offerings and address opportunities through a consolidated structure.
As part of the agreement, ioTRAN will leverage the Talking Platforms North American network footprint to deploy its cloud based UCaaS solutions. Leveraging the network assets of Talking Platforms allows ioTRAN to deliver its ioSaaS offerings from multiple data centers, bringing services closer to its clients and end users.
"The combination of ioTRAN's ioSaaS cloud-based telecom solutions and Talking Platforms' award-winning white-label UCaaS reseller services offers a robust, affordable and complete communications offering for MSPs, ISPs, cable TV operators and traditional interconnects," said Salvatore Costantino, CEO of ioTRAN. "The merger we've announced today makes it easier for customers to get everything they need from a single provider."
Talking Platforms will continue operating under its current trade name, and it will continue serving the white label telephony market while its operational structure transitions to the ioTRAN brand over a conversion period. As part of the agreement, Talking Platforms' offerings will now be powered by ioPLATFORM, the ioTRAN UCaaS solution.
About ioTRAN
ioTRAN is dedicated to being a leader in the Unified Communications platform industry, with a mission to empower companies and organizations to reach their goals through technology. Its extensive experience in class 5 Softswitch and Unified Communications platform development allows ioTRAN to work with a diverse range of clients, including service providers, carriers, CLECs, iLECs, and enterprises. ioTRAN offers a comprehensive suite of telecommunications solutions, delivered via its ioSaaS cloud- based offering and on-premise installations. Through its commitment to excellence, ioTRAN is able to help organizations improve their operations and achieve success in the telecommunications industry.
About Talking Platforms
Talking Platforms provides award winning white-label UCaaS reseller services. It was established to meet the increasing need for IP telephony, particularly for cloud-based Hosted PBX and UCaaS reseller solutions. The offering is built on the ioPLATFORM cloud-based, private-label UCaaS Softswitch model. Talking Platforms provides its UCaaS platform services exclusively to reseller partners and service providers in North America.
Contact: This email address is being protected from spambots. You need JavaScript enabled to view it.
---
Talking Platforms USA is a company that offers white-label UCaaS reseller services. It was established to meet the increasing need for IP telephony, particularly for cloud-based Hosted PBX and UCaaS reseller solutions. Our platform is built on a cloud-based, private-label UCaaS Softswitch model. We exclusively provide UCaaS platform services to our partners and service providers as a North American-based UCaaS provider. Our company does not sell to retail customers nor compete with our partners.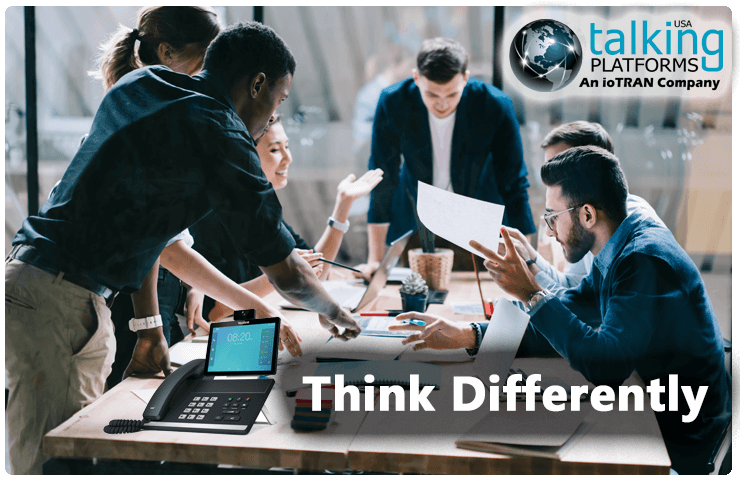 Over 15 years ago, we recognized the potential of VoIP and UCaaS as the future of communication. However, we found that the available options for businesses were limited. To address this gap, we developed our own commercial-grade Softswitch solution. Unlike other providers that rely on open-source communities or IP PBX instances, we created our own carrier-grade software. This approach enables us to offer our partners and resellers increased security, reliability, and cost savings.
We understand the need for a vibrant, motivated third-party reseller channel that can sell Talking Platforms products and services as their own white-labeled product. That is the sole purpose we went into the VoIP and UCaaS reseller business and created the 'Talking Platforms' brand. We are a UCaaS white-label reseller program that focuses on helping businesses and service providers give their customers the best cloud-based communications products on the market.
At Talking Platforms USA, we pride ourselves on recruiting only the best individuals and organizations from the IT and telecom sectors. Our team of professionals is passionate about applying technology to make a real difference. We work with MSPs, VARs, PBX Interconnects, Office Technology providers, Broadband providers, and other organizations interested in reselling high-margin communication services to their customers under a private label.
Our mission is to provide our partners with the most reliable, secure, and feature-rich UCaaS platform. We understand that our growth is directly related to our partner's success, and this is what drives our unique culture. Our goal is to build value and a larger-than-life image for our partners, resulting in a platform and service that you can be proud to put your brand on.
From all of us at Talking Platforms, the USA wholesale private-label UCaaS provider platform, we look forward to providing you with a world-class UCaaS service that you call your own while providing significant growth and additional services to your organization.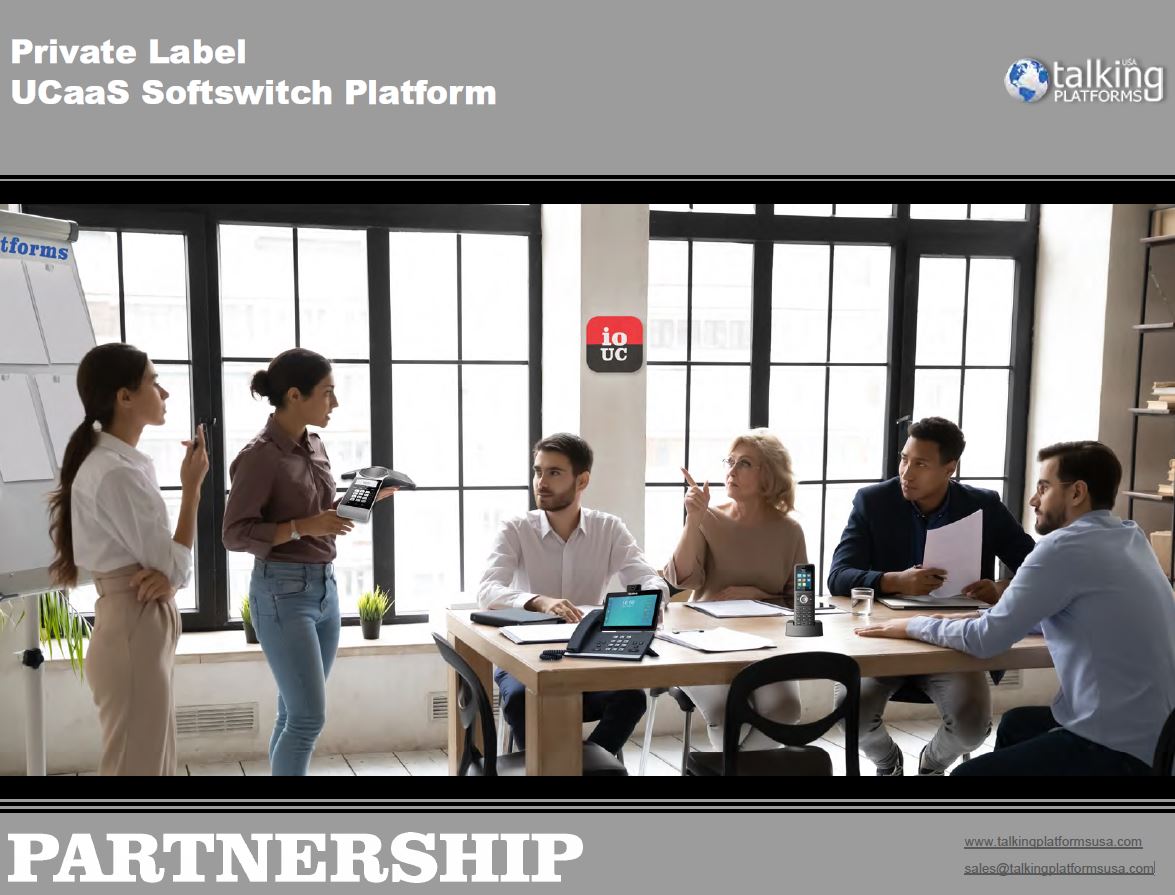 Download our Company brochure