Hosted PBX and VoIP
Business, Residential, and SIP Trunk
UCaaS Platform
---
Talking Platforms offers a private-label UCaaS Platform for Hosted PBX and VoIP solutions, powered by the reliable ioTRAN Softswitch platform. Our platform supports white-label hosted PBX for businesses, residential for consumers, and SIP Trunks for wholesale markets and IP PBX termination. Additionally, our mobile and desktop applications provide advanced features such as Dialer, Fax, Chat, SMS, CRM, and Call Center capability through ioCONNECT and ioCONNECT-UC.
Why Hosted PBX?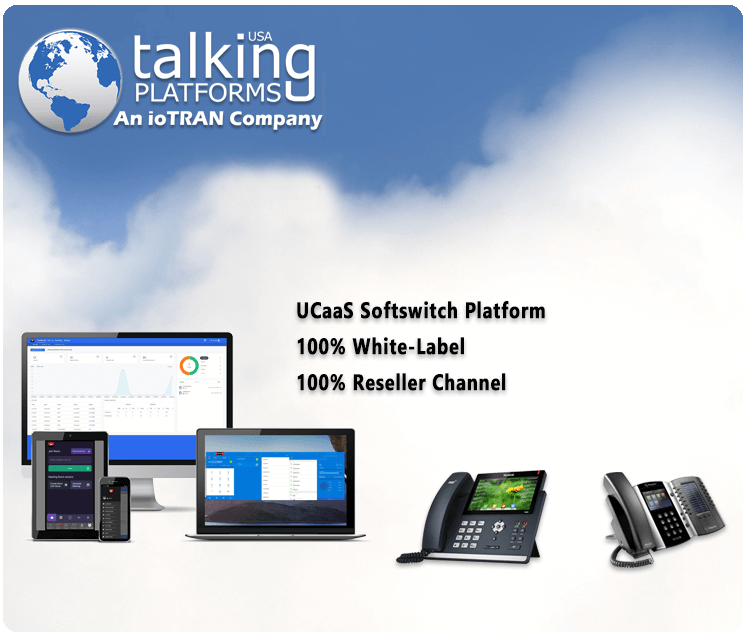 Every business needs a phone system. Traditional phone systems used to rely on expensive hardware located at the customer's premises, but today's businesses are increasingly turning to hosted PBX in the cloud. Hosted PBX offers more features, scalability, and accessibility while reducing costs.

If you're an organization providing technology services and products to businesses, you should be offering Hosted PBX services. This includes MSPs, VARs, IT technology providers, office technology providers, and broadband providers. Selling Hosted PBX services enhances your customer relationships and positions you as a single-source supplier of technology services and products.
Talking Platforms provides you with all the tools you need to sell Hosted PBX and VoIP services under your own brand. This means you can focus on selling the service without the need to create or maintain your own platform.
All the features you need!
Our UCaaS Hosted PBX and VoIP Platform features
:
Hosted PBX
Sip Trunk (wholesale resale and dial tone)
Residential
Fax
Billing and Invoices (integrated)
Accounting (integrated)
Agent and Reps Commission Reporting
Taxation (integrated)
DID Management
Reports
IVR
Ring Groups
Conference Rooms
Call Park
Intercom/Paging
Shared Voicemail
Shared Call Appearance
Routing Scheduler
Find Me/Follow Me

io

CONNECT

and

io

CONNECT-UC

UCaaS desktop and mobile clients
Toll-Fraud Protection
DDoS Protection
Looking to increase your opportunities and strengthen customer relationships? Talking Platforms offers a white-label Softswitch platform unmatched by any other UCaaS provider.
Don't put off becoming a hosted PBX and VoIP reseller,

contact us at (202) 747-0064 today!